We had another fabulous day touring and knocked off 8 more stores. My day started extremely early at 3 am so I could get get some work completed and attend court before heading out. Luckily, I was able to get to the top of the calendar and was out of there by 10 am (woot!).
The first stop was back to Wildfibers so my mother-in-law, who was not able to join us yesterday, could get the pattern and Olga and I could enter the drawing again. Conveniently, they are located across the street from my office.
Next we headed out to Ana Cross Stitch. I always love their patterns and was able to score some awesome yarn. Surprisingly, it's not even pink (but I did get grey…I can't help myself).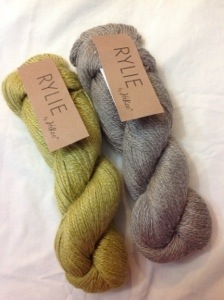 Then we were off to Whidbey Isle Yarns. There we learned a very valuable lesson – It was realized that a debit card was lost in Seattle and we found out the crooks wiped out the bank account. This is a harsh reminder to us small town folks that the "big city" can be a nasty place. Keep safe ladies, keep safe.
Stalwarts that we are, we didn't let the bad news get us down and trucked on down the road to Knitty Purls and enjoyed their new location before grabbing lunch and taking the ferry over to Everett. We stopped at Great Yarns where, and you will never guess, I bought pink and grey yarn for their super cute cowl. I pretty much always get their pattern supplies. It was really mandatory because we had been drooling over mink yarn yesterday and had shown great restraint, so the fact that mink was featured, it seemed fated.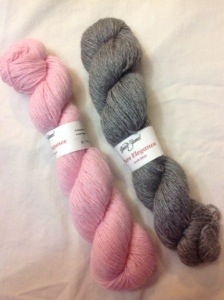 After that, we headed to Country Yarns. This would have been our last stop but we had loads of time so we figured we'd head out to Tolt Yarn & Wool where I thought I'd died and gone to yarn heaven. If I ever own a yarn shop, I want it to be just like that… I had to leave because I really really (really) wanted to buy some of that gorgeous goodness, but the project I had my eye on was way over budget. Must. Save. For. Next. Year.
From there, we realized that we we're going to have to pass Quintessential Knits, so that was the last stop for the day. The pattern was cute, the inventory nice, but the location leaves much to be desired.
When I got home, I saw I missed a call from Great Yarns (!!!) Could it mean I won the daily prize?!?! They didn't leave a message so I am dying to know! I called right back, but no one answered.
Tomorrow will be another busy day. Mine will start at 1:30 am because we have a kid leaving for Disneyland – the lucky dog. We think we we will finish tomorrow! So excited. Stay tuned….