This, the day after Christmas, is a sad day for me as I really love the holidays. The presents are opened, the food is eaten, the mess is cleaned up (almost).
This year I knit some gifts, including Knit Pick's spa kit.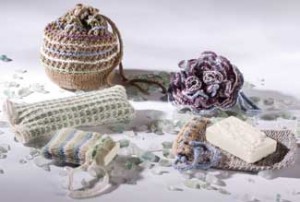 I think they liked them, despite the flaws! I included a tube of Mary Kay extra emollient cream and Satin Hands Scrub, plus a little bar of handmade soap I found in Seattle.
My next task is to finish Mr. Foster!! I am still working on the tiny robe sleeves. I've also got a ton of other projects to finish. I wish there was more time….