I figured out what I bought the Knit Picks yarn for and now have lots of projects to work on. The pink is for this super cute sweater, the red and grey is for a Christmas stocking, and the purple is for some slippers.
Yesterday I started Mr. Foster Sock Monkey. Too cute!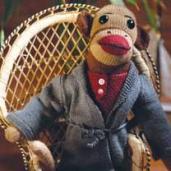 My biggest problem is WIPs. I have so many it's embarrassing. I got stuck on my Kimono sweater and really need some help, but no such luck yet. Anyone?